Louisville Trivia Pub Quiz at Molly Malone's
Posted by Nick Peskoe on Monday, October 22, 2012 at 9:28 AM
By Nick Peskoe / October 22, 2012
Comment
To some degree, we all have a bit of a competitive streak. It can manifest in a variety of ways - a high stakes poker game, going up against a rival team, or even just trying to outdo your sibling at the simplest task. There's a tiny thrill of adrenaline that comes with any contest, and it can be quite addictive. Yet the main priority of any good, healthy competition is always to have fun. The best thrills come, not from winning, but from challenging ourselves and discovering our hidden potential. For some, trivia is the challenge, and the hidden potential rests within the great warehouse of facts we've tucked away inside our heads.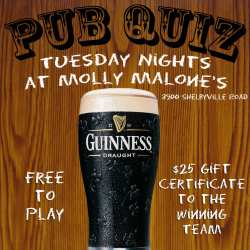 If you want to test that potential, then it's time to engage in some friendly competition. Every Tuesday night is Pub Quiz Trivia Night at Molly Malone's. Quiz takers will be asked a broad range of questions from many different subjects, including pop culture, local culture, and just a bit of good old common knowledge. Gather up a group of your closest (and cleverest!) friends to help you get the $25 gift certificate that goes to the winning team. While you search for the right answer, you can enjoy some of their draft lagers and ales, and an entrée that satisfies any craving you might have from seafood to pasta.
The best part of all (other than it being free to participate) is that you can play to your strengths. The Pub Quiz will have six rounds, with each one incorporating ten questions. The first two rounds will focus on general knowledge, so you and your friends have an equal opportunity to guess from whatever facts you've absorbed over the years. If those questions aren't really your speed, then maybe you will do better in the next two rounds, the themed rounds. The specific topic they choose might be right up your alley, something in which you're familiar and educated. If not, maybe you'll be great at the famous places and faces picture round, a set of questions for those who respond better to images than phrases and words. And if all else fails, you might catch a couple of answers in the random round, where the questions don't fit any category.
Even if trivia isn't your thing, there are still lots of other events taking place weekly at Molly Malone's. Every Monday features live performances by The Steve Cooley Bluegrass Experience, and drink specials will be served. There will also be other live performances by The Sweet Nothings, Phil Regan, and Peter Mandic throughout the week. Saturday night is dance party night, so make sure to wear shoes you can spin in! Remember, it's free to participate, and even if you don't get the $25 gift certificate, you'll be getting rewarded enough by the priceless fun you'll get to share with your friends.
Where: Molly Malone's. 3900 Shelbyville Rd. Louisville, KY 40207
When: 8pm - 10pm
For more information about the Louisville MLS, please visit www.louisvillekyrealestate.co.