The 2015 Porktoberfest is this Friday evening!
Posted by Nick Peskoe on Monday, October 05, 2015 at 12:00 PM
By Nick Peskoe / October 5, 2015
Comment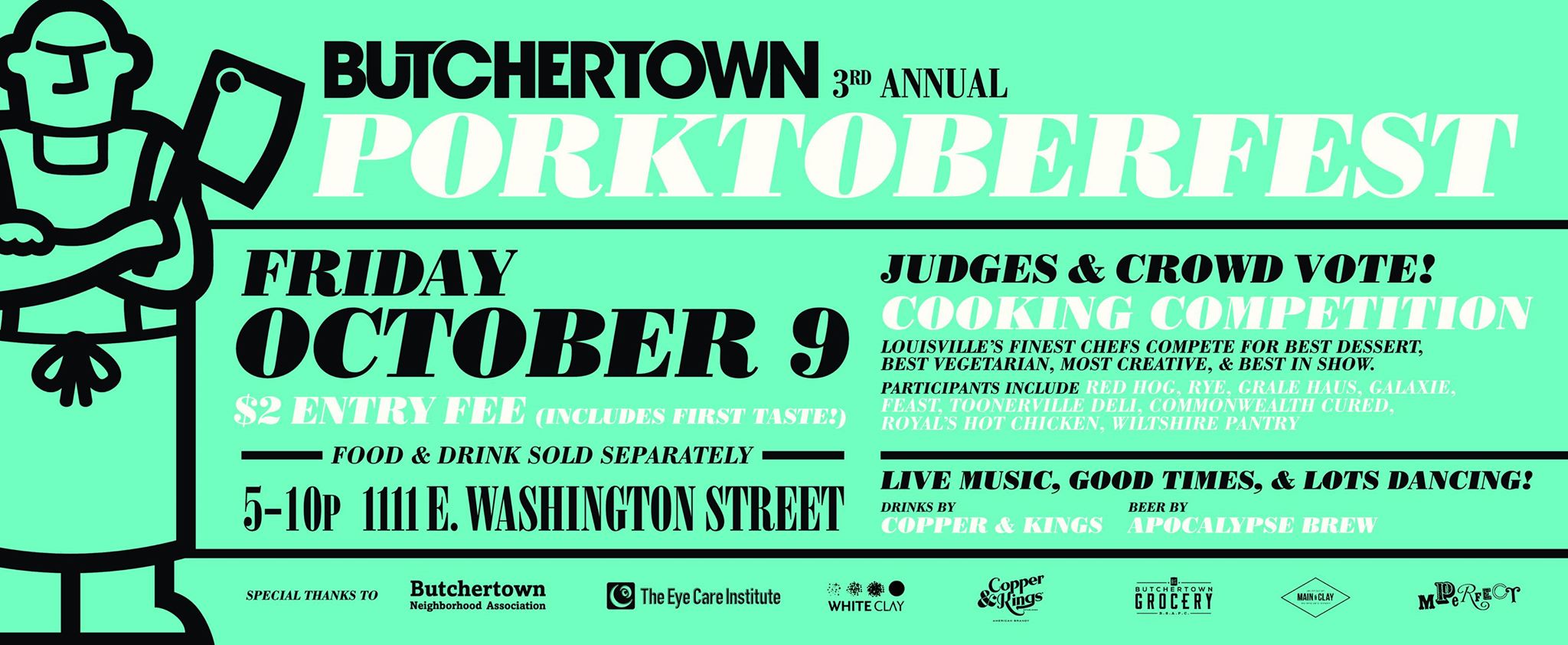 Pork lovers will be uniting this Friday October 9th from 5-10pm for the 3rd Annual Porktoberfest! Festivities for Porktoberfest will take place at Copper and Kings at 1111 E. Washington St. Admission is $2 for all participants and will include one taste; additional food and drink will be sold separately.
If you have not gotten the chance to experience this event the past two years now is your chance! There will be numerous local restaurants cooking and serving up pork-inspired cuisines and foods that will leave you wanting more and marking your calendar for next year's Porktoberfest. If that's not enough to get you to come out to this tasty event, keep in mind that all proceeds raised will go directly to the Butchertown Neighborhood Association. This is important as it will help keep the Butchertown area growing in a positive direction!
There will be wonderful live music, cocktails provided by Copper & Kings, beer provided by Apocalypse Brew, and much more. The highlight, however, will be the cooking competition where the judges and crowd will vote in several categories! Some of the top chefs in Louisville will compete for many titles, including 'Best Dessert', 'Best Vegetarian', 'Most Creative', and 'Best in Show'.
So let's get to the 'meat' of the event…which chefs and restaurants will be participating? You will get the chance to try delicious foods from restaurants that are not even open yet, including Royals Hot Chicken, Red Hog Tapas, and Commonwealth Cured. Some of the other local places competing and participating include Gralehaus (voted 'Best Overall Pork' and 'People's Choice' at 2014 Porktoberfest ), Feast BBQ (voted 'Most Creative' at 2014 Porktoberfest), Wiltshire (voted 'Best Vegetarian' at 2014 Porktoberfest), Toonerville Deli, Rye, and Galaxie.
The 2015 Porktoberfest is sponsored by the participating restaurants, as well as the White Clay, The Eye Care Institute, The Butchertown Grocery, and the Butchertown Neighborhood Association. Bring the family out to experience the smells and sights of this wonderful event and, of course, to PIG out! The event will be held rain or shine but will be outside weather permitting. One of the biggest benefits of this event, according to the Butchertown Neighborhood Association, is two-fold: to find great, local food options that celebrate the history of Butchertown and to bring people from across the area "who may not know much about the neighborhood."
For more information, check out Butchertown's Facebook page.